Description
Buy InMotion V12 HS
Buy InMotion V12 HS. We want to present the fastest 16-inch unicycle ever made! InMotion surprised us afresh and once again took the lead as the innovative brand in the industry. The V12 is the first unicycle with an app-free multifunctional touchscreen (yes, we know about Sherman's display, but we are talking about touchscreens here). This wheel is also the first 100V released by InMotion. The first wheel with a pedal height adjustment system and the first unicycle with a USB-C port. A lot of firsts for both the EUC world and for InMotion as a brand.
Servicing the wheel is way more manageable compared to the V11 – this may not sound like a big deal, but when the time for a tire change comes, you will not be disheartened even before the start.
The wheel is agile and has one of the most responsive accelerations on the market. Want to learn more? Just scroll down.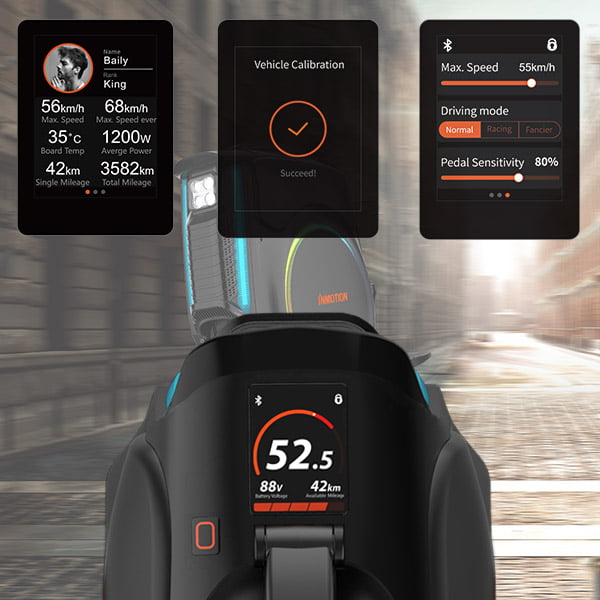 Built-in Display
The first of its EUC kind multifunctional touch screen is placed in the top-front part of the shell. It gives full information about the wheel's condition, and you can change each setting without even taking your phone out of the pocket. The touchscreen is a perfect example of a helpful feature on a EUC and also happens to be extremely easy to navigate.
Pedal Height Adjustment System
Here you have the freedom to regulate the height of your wheels' pedals. You can switch between 3 established height positions quickly and easily. These positions come very handy when you are riding the offroad trails by noon, and you need that clearance off the ground, and then in the evening, you want to do your speed ride in the city, and you can lower the pedals for more stability.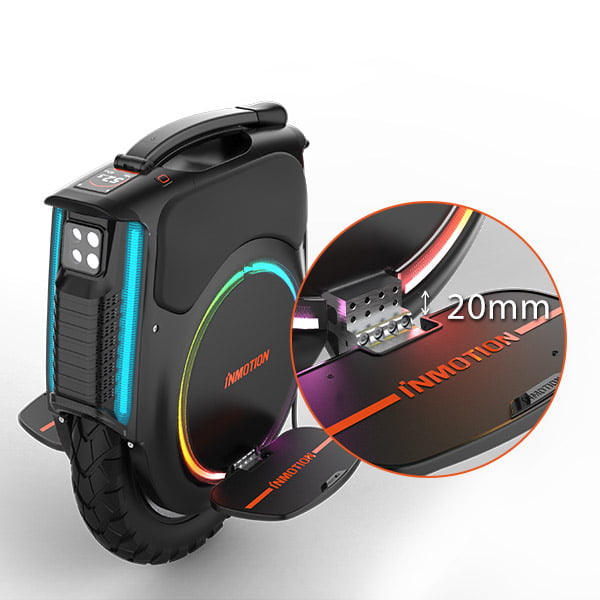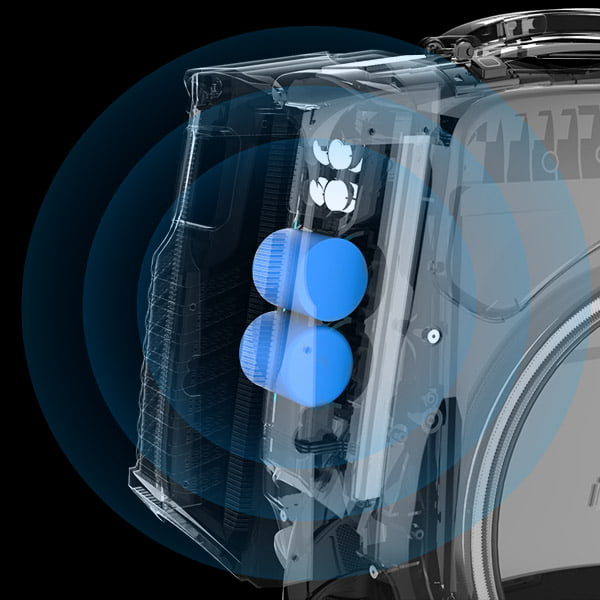 Other Features
V12 comes with four stereo speakers, placed in the back the front part of the wheel for even sound distribution. The sound is loud and pleasant to the ears. We can also hype about the known V11 integrated stand because it is present in the V12 as well, but this time, it looks sturdier and more stable. The charging port on the wheel is already seen on the Veteran Sherman and some Begode wheels, giving us the freedom to use a wider variety of chargers up to 10 Amps. This next feature is something new to the EUCs market – a digital anti-theft lock! It allows you to lock your wheel with a PIN code through the display
.
The headlight of the V12 has three operating modes and an automatic lights sensor
.
There're also ambient RGB lights on both sides of the shell, which you can modify by preference. And last but not least, and probably one you will be excited about – the wheel comes with an actual certified water resistance rating
.
Specification
Color
Black
Tire size
16″
Battery capacity
1750 Wh
Rated power
2500W
Max speed
70 km/h
Max range
160 km
Max load
120 kg
Max gradeability
35°
Pedal height
Adjustable height – 3 positions
Charging time
9 hours
Net weight
29 kg
Dimensions
607(H) x 497(L) x 190(W)
Bluetooth Music
Yes
LED Lights
Yes
Suspension
No